Home » 2011 » September » 26 » Final Cut Pro X 10.0.1 + Motion 5.0.1 (Sep 20, 2011) (Mac)
---
6:43 PM
Final Cut Pro X 10.0.1 + Motion 5.0.1 (Sep 20, 2011) (Mac)
Final Cut Pro X 10.0.1 + Motion 5.0.1 (Sep 20, 2011) (Mac)
Mac OS X | DMG Files Format| No Need SN | No Password
Updated: Sep 20, 2011Final Cut Pro X 10.0.1
(Size: 1.34 GB)
Motion 5.0.1
(Size: 1.08 GB)
Languages:
English, French, German, Japanese


Final Cut Pro X 10.0.1 *Updated*

Final Cut Pro X... Completely redesigned from the ground up, Final Cut Pro adds extraordinary speed, quality, and flexibility to every part of the post-production workflow.
Rebuilt from the ground up to meet the needs of today's creative editors, Final Cut Pro breaks free from the restrictions of old-fashioned timeline tracks. A new, dynamic editing interface lets you experiment freely while working with extraordinary speed and precision.
Edit without clip collisions or sync problems, with the Magnetic Timeline, Clip Connections, and more.
Powerful media organization.
Find any clip in just a few clicks using a combination of automatic metadata and custom keywords.
Incredible performance.
Use the full power of the Mac for fast, responsive editing, with consistent color and quality at every step.
REQUIREMENTS
Mac computer with an Intel Core 2 Duo processor or better
2GB of RAM (4GB of RAM recommended)
OpenCL-capable graphics card or
Intel HD Graphics 3000 or later
256MB of VRAM
Display with 1280-by-768 resolution or higher
Mac OS X v10.6.7 or later
2.4GB of disk space
What's New
Version 10.0.1:
Export audio and video stems as a single multitrack QuickTime movie or as separate files using Roles.
Import and export XML to support third-party workflows.
Place Projects and Events on Xsan to improve collaboration between editors.
Set custom starting timecode for your projects.
Add transitions to connected clips in a single step.
Enable full-screen view in Mac OS X 10.7 Lion.
Speed up delivery with GPU-accelerated export.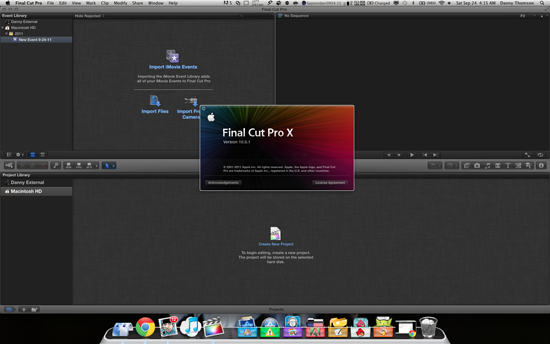 Motion 5.0.1 *Updated*
Updated Interface
A single window. Infinite creativity.
The Motion interface has been redesigned specifically for Final Cut Pro editors, with a familiar look and feel that makes it easy to switch between the two applications. A new single-window layout puts all the tools you need at your fingertips, and redesigned icons make it easy to identify options at glance. The darker look of the new interface is designed to enhance color perception as you work with any combination of video, stills, and motion graphic elements. Many filters now include onscreen controls for direct, intuitive manipulation of effects. And keyframe editing is much more accessible thanks to a new view that displays the Keyframe editor below the timeline.
MIN REQS
Mac computer with an Intel Core 2 Duo processor or better
2GB of RAM (4GB of RAM recommended)
OpenCL-capable graphics card or Intel HD Graphics 3000 or later
256MB of VRAM
Motion 5.0.1 improves overall stability and performance including:Adds support for dual displays
Fixes an issue with the import and playback of multichannel audio
Resolves a stability issue when navigating to keyframes at a negative time
Fixes an issue with incorrect text positioning when the Inspector is open
Provides for correct kerning between characters when applying adjustments
Resolves stability issues when entering an empty string in a title while in Draft Mode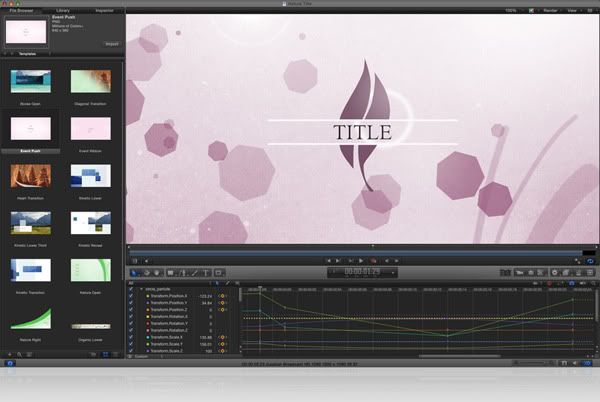 Category:
Software
|
Views:
396
|
|