Home » 2012 » January » 17 » FlashGet 3.7.0.1195
---
7:15 PM
FlashGet 3.7.0.1195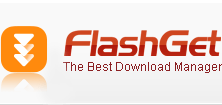 FlashGet 3.7.0.1195 | 5.4 Mb
  FlashGet
is a leading download manager and has the highest amount of users on the internet. It uses MHT(Multi-server Hyper-threading Transportation) technique, supports various protocols and has excellent document management features. FlashGet is a freeware without any adware or spyware.
New Feature for V3.7
FlashGet3.3 supports HTTP,FTP,BT and eMule protocols.
The new P4S technique chould highly accelerate the downloading process.
IE6,IE7,IE8 and Firefox are supported.
For more features,download now!
Download From FileSonic
Download From FilePost
Download From Oron
Category:
Multimedia
|
Views:
313
|
|