Home » 2011 » December » 18 » ReanimatoR v.12.2011 by R.G.Win/Soft
---
7:37 PM
ReanimatoR v.12.2011 by R.G.Win/Soft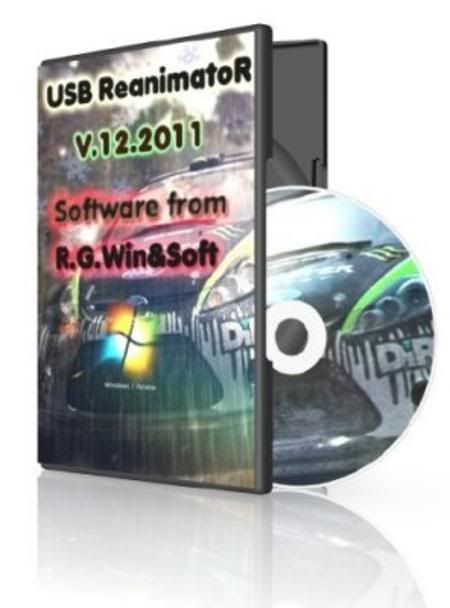 ReanimatoR v.12.2011 by R.G.Win/Soft | 9.28 GB
ReanimatoR a multiboot flash drive, replacing the boot CD + Windows 7 on a flash drive. USB Reanimator will install a flash drive Windows 7 SP1 8 in 1 IDimm Edition, or boot from a flash drive as a normal hard drive for necessary as required manepulyatsy running. The first USB Reanimator is intended for IT System Administrators and advanced users or users who do not stand still. USB Reanimator works with any USB drive of at least 16Gb, even from your mobile phone or camera.
COMPOSITION USB ReanimatoR
Windows 7 SP1 8 in 1 IDimm Edition:
The assembly is a way in which the combined version of Windows 7 are:
Windows 7 SP1 Home Basic x86 v.11.11
Windows 7 SP1 Home Premium x86 v.11.11
Windows 7 SP1 Professional x86 v.11.11
Windows 7 SP1 Ultimate x86 v.12.11
Windows 7 SP1 Home Basic x64 v.11.11
Windows 7 SP1 Home Premium x64 v.11.11
Windows 7 SP1 Professional x64 v.11.11
Windows 7 SP1 Ultimate x64 v.12.11
* Multiboot image in dual-boot added: Total Commander 7.56a launch, launch MSDARTS 6.5.
* Semi-automatic machine (left open to enter your data, select and format the partition).
* The distribution has patched for use of third-party themes.
* Hibernation is disabled and UAC (User Account Control).
* Integrated Internet Explorer 9 with the latest updates.
* Added the extended memo to dialogue, "Run."
* Removed useless topics, differing only in color box.
* Remove background images, examples, pictures, music and video.
* Added your wallpaper, with the removal of the original.
* Added user your icons, with removal of the original.
* Replaced some resources (dialogues, pictures, icons).
* Apply tweaks to improve the interface and system performance.
* To save room in the assemblies no more themes and gadgets.
Multiboot 2k10 DVD & USB v.2.3:
Multiboot CD (DVD) & USB disk system administrator based on the bootstrap IsoLinux / SysLinux v.3.86. The CD consists of several products, unification of one shell with download vozmozhnostyu c CD / DVD, USB Flash Drive, USB-HDD and the usual HDD. The main purpose - preparing to install the OS (with vozmozhnostyu install Win 2000/XP/2003/Vista/7 - Utilities WinInstall (GUI) / WinNtSetup, installation packages in an assembly are not included!), Creation / deployment system images, restore / copy data resuscitation companies, clearing the OS from viruses / trojans, testing the basic components of MS, and more. There is a support network (RusLive/Win7PE/PartedMagic) vozmozhnostyu with Internet access and multimedia support (RusLive / PartedMagic). There vozmozhnost use most of the programs of the assembly as a "portable" (fully portable, they are not, it's just self-extracting into a marketing-TEMP directory with autoenrollment).
AntiWinLocker 3.3:
Recently, more and more often faced with the problem of infecting your computer pornography banners that need to transfer money to the account or send sms. And there you have a solution to this problem. AntiWinLockerLiveCD help clean it up - automatically, without you remove the banner and restore the normal load. If the banner is in the startup, there is a manual mode that allows you to disable startup items.
Posted:
At the root of the stick in your temp is SamDrivers 2011 Final without drivers on Windows XP (Removed for not required)
Collection of drivers from SamLab for all 32-bit and 64-bit Windows from Windows 2000 to Windows 7 including server platforms. As the shell-installer program used Drivers Installer Assistant 3.4.12 and DriverPack Solution 11.8.234 Pro to auto-detect your hardware and automatically install the necessary drivers! The collection includes the most current at the time the driver collected personally SamLab. Do not confuse this package with the driver-packs of Bashrat and others - the current driver is newer and more stable than others because SamLab is a member of the team Bashrat and has the ability to know about all the problems of a similar driver packs to create a set of the most comprehensive and peaceful!
The archive is the creation of user flash. The author of the updated virus database on a fresh look at screens;
System requirements:
Windows 7 SP1 8 in 1 IDimm Edition
1 GHz processor (32 - or 64-bit);
1 GB of RAM for 32-bit system and 2 GB of RAM for 64-bit;
16 GB of free disk space for 32-bit and 20 GB of free disk space for 64-bit;
The video card supports DirectX 9 with WDDM 1.0 driver or above
Multiboot for 2k10 DVD & USB v.2.3
Kompyuter with 128Mb RAM or higher (SV-Micro) / 256Mb RAM or higher (RusLive / Parted Magic), 512Mb RAM or higher (Win7Live), 768Mb RAM or higher (WinSeven x64), CD / DVD drive or USB interface.
For AntiWinLocker 3.3
Kompyuter with 128Mb RAM or higher
md5 (. rar): 6428a2ce4b98fa3378db5c34b34e0fb8
Year: 2011
Version: v.12.2011
Developer: R. G. Win & Soft
Platform: x86
Tablet: not required / required for Win7 (use activators)
Size: 9.28 Gb
Category:
Software
|
Views:
569
|
|